We stopped our electric bikes just in time to catch a large, thick black snake praying on a small defenseless fish in the dense vegetation along the marshy water's edge.  In a split second, the snake strikes.  The defenseless fish finds itself in the fangs of it's killer.  The fierce snake proudly swims vertically, half way in and half way out of the water, down the middle of the waterway with his catch protruding out of his mouth.  He appeared to be showing off his trophy to all the other wild life that inhabits the surrounding area.   This incredible moment may not have been observed without the convenience of having our E-Bikes rentals in Flagler Beach.
E-Biking in Flagler Beach provides an experience so different from visiting on foot.  Flagler Beach has so many hidden gems that can be easily explored when you rent an electric bike.  Flagler Beach is a salty little town that stretches down A1A.  This coastal town provides six miles of ocean views.  Visitors can swim, surf, fish, shop at local stores along the cost way, and eat at one of the many open-air restaurants.   There are so many things to do in Flagler Beach, and renting an electric bike is the only way to do it.
Also check out: BUTLER BEACH E-BIKE ADVENTURES
Our first cool adventure with our electric bikes at Flagler Beach was visiting the Betty Steflik Preserve.  This discovery was a pleasant surprise and one that was not planned. We decided to start our adventure by winding up and down the streets of the local neighborhoods.  The houses were so diverse.  
There were old Spanish stucco houses, modern houses, and houses that were colorfully spray painted with ocean themes.   The smell of families barbecuing their dinner, the sounds of children playing outside, along with the gentle breeze felt against my face made this a very peaceful ride.  While cruising through the local neighborhoods of Flagler Beach, we came across the Betty Steflik Preserve.  What a discovery we stumbled across and one we wouldn't have found without the convenience of our E-Bikes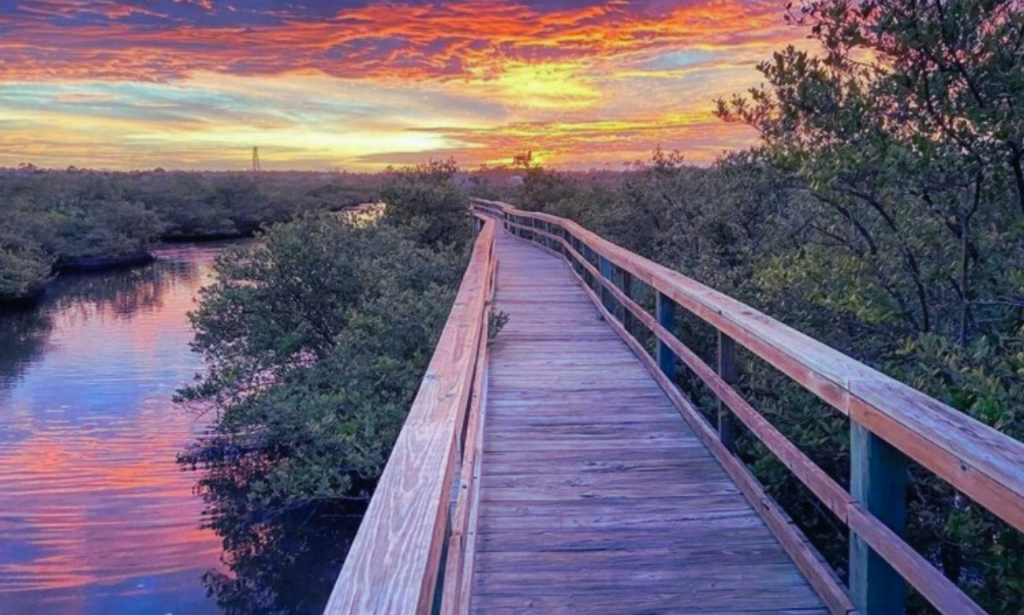 The Betty Steflik Preserve is a salt marsh water wonderland.  Our attention was immediately drawn to the wooden boardwalk that was outlined by beautiful palm trees and local shrubbery.   Initially, we thought we would ride our Electric bikes onto the wooden boardwalk and be greeted by a pier overlooking the beautiful Intercoastal waterway.  However, we were happily surprised to see that the boardwalk stretched onward farther than the eye could see.
A perfect place to ride our electric bikes.  It was late afternoon, so the sun was beginning to make its descent into the horizon.  The orangish, yellowish rays cast down on the boardwalk, making shadows along the boards from the railings.  We could hear our Electric bike tires lumping against the old wooden boards as we began our journey. 
Nature was alive on this late afternoon.  Birds were enjoying the light breeze as they glided over head of us.  Fish were jumping up out of the water and then splashing back into the salty water. Small crabs were seen scurrying sidewise down off the boardwalk as they felt the vibration from our electric bikes approaching. 
This boardwalk was so much fun to ride on our electric bikes at Flagler Beach.  There were moments we were riding flat and then surprised as there was a small incline followed by a decline.  We passed small little picnic areas where one could sit still as nature around them was busy on the move.  The boardwalk stayed very straight but then we came upon a sharp right turn where we could see additional parts of the boardwalk to explore. 
We continue straight, eager to know where this adventure would end.  As we came through this part of the boardwalk, we were able to see a large pier that overlooked the Intercostal Waterway.  The sun was continuing to fall to the horizon, and yellow shimmers of light danced on the water's surface.  What a hidden gem in Flagler Beach.  Next time we know, we have to pack our fishing rods when coming back to Flagler Beach.
We doubled back with our electric bikes and took a left on the boardwalk to see what other treasures we could find while ridding our electric bikes.  This part of the boardwalk was engulfed with trees which almost appeared to hug the boardwalk and make a natural tunnel.   Winding through the marshy forest with the electric bike rentals, we discovered that this part of the park also offered dirt hiking trails. 
These trails were outlined by a variety of different trees draped with Spanish moss which twinkled as the setting sun shined through them. The marshy saltwater could be smelled as we steered our way along the boardwalk.  It ended in a park area with picnic tables, restrooms, and beautiful Florida vegetation.   We were so excited to find this this park; so worth it!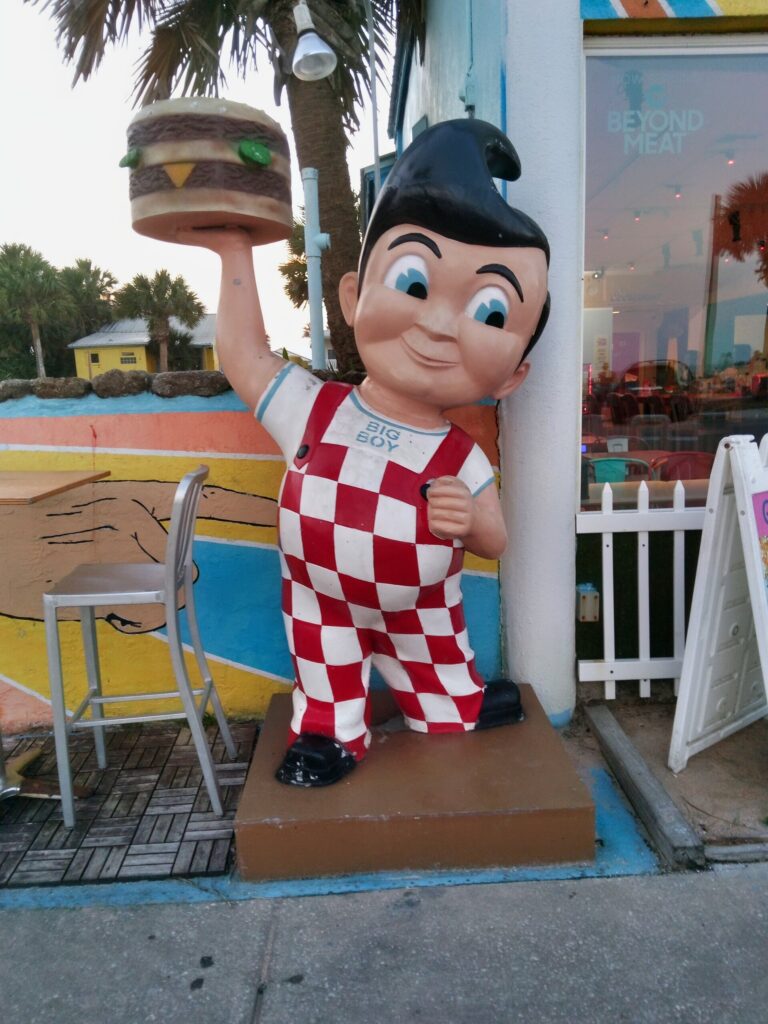 Our stomachs were telling us that it was time to enjoy some good food.  We decided to ride our E-Bikes along A1A until we saw a place to eat.  The small Flagler Beach city charm made us feel as if we had drifted back in time.  Hotels that appear to be stuck in the '70s faced the rolling ocean.  The breeze became stronger, and the soothing sounds of the ocean could be heard as we biked down A1A with our electric bikes.
Small little locally owned stores weaved in and out of various places to eat.  Before enjoying some good food, we decided to park our electric bikes and enjoy the famous Flagler Beach pier and check out the writing on the chalk board outside the Funky Pelican. It was dusk by then, and the wind had picked up as we got closer to the hissing ocean. People sat along the sandy beach enjoying the last few minutes of daylight before night fell.  The pier stood strong amidst the crashing waves. The fresh air reminded us again, it was time to find some food.
We returned to our Electric bikes and rode up A1A until we found a beachy restaurant called Tortugas.  It was not hard to find, people were camped out listening to live music on the outdoor patio.    People had drinks in their hands, dogs on leashes and were steps away from the ocean that was now lit up from the shinning above the moon.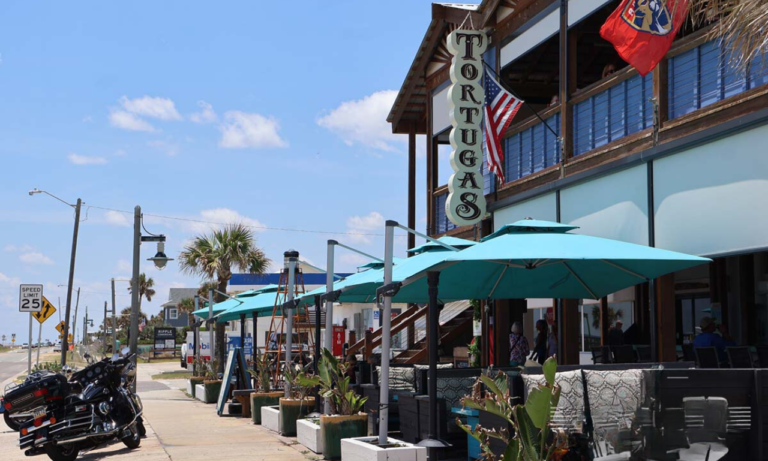 We learned from our visit that a lot of local musicians come down on Wednesday nights in hopes of getting the chance to play at this local beach restaurant.  We chose to sit at the outdoor bar, but the restaurant also offered comfortable outdoor couches with dining room-sized tables or you could eat inside.  Sitting at the outside bar provided us with the opportunity to enjoy the local music, feel the breeze from the ocean and people watch as people toured up and down A1A. 
We really enjoyed their food.  We started off with the Baja Egg Rolls, which were crispy egg rolls stuffed with blackened chicken, roasted corn and creamy goat cheese.  We dipped them in a side of Tokyo Ginger Dipping sauce, which was delicious.  I then ordered the Firecracker shrimp tacos, and my husband devoured The Flagler Fish Reuben.  The night ended as perfectly as it began.  Our adventure with our electric bikes at Flagler Beach had a little bit of everything, what an awesome day.